News Release
2021
Opening of the Sonezaki Data Center (provisional name)
~Expansion of the largest internet exchange in western Japan~
July 14, 2021
NTT SmartConnect Corporation
NTT SmartConnect Corporation (head office: Osaka City in Osaka; president: Shuji Akiyama, hereinafter called "NTT SmartConnect") will open large-scale Sonezaki Datacenter (provisional name) in a neighboring area of Dojima in April 2022.
1. Background to the opening
NTT SmartConnect has deployed six data centers in the center of Osaka and the Dojima, Kitahama, and Nipponbashi areas since the establishment in 2000. Being valued with high-quality, low-cost optical fiber cabling in Dojima and the surrounding areas, our data centers have grown into the largest internet exchange*1 in western Japan.
With the increased demand for internal and external video live service by companies and increased traffic from the increase in video streaming service by consumers staying at home due to COVID-19, and the development of IT technologies, including 5G and automated driving, it is expected that internet traffic will continue to increase in the future.
NTT SmartConnect, which has been responding to such demands by establishing the Nipponbashi Data Center in May 2021, will ensure a response to customers' demands, including facility expansion, and ISPs' demands to expand their business into the Kansai area by establishing the large Sonezaki Data Center (provisional name) in a neighboring area of Dojima.
*1

Internet exchange is also called the internet exchange point and is an interconnection point between internet service providers (ISPs) and internet data centers (IDCs).
Exterior image of Sonezaki Datacenter (provisional name)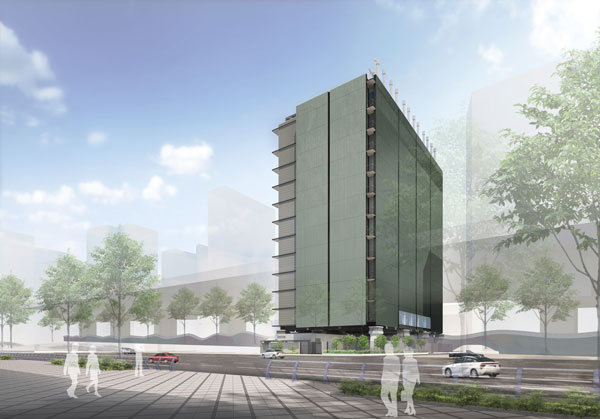 2. Major features of the Sonezaki Data Center (provisional name)
(i) Housing service available to meet hyper-scale requirements
The Sonezaki Datacenter is planned to support racks from a unit of one rack to more than 100 racks and is scalable up to about 3,650 square meters per 10.0 MW to flexibly respond to customer requests, including housing rack specifications and positioning. The rack size in the standard housing service is 700 mm wide and 1,100 mm in depth (can be scalable up to 1,200 mm as an option), the power cables and network cables are provided in different routes, and customers can safely use the service. It also supports high load power at more than 20 kilowatts per rack.
(ii) Directly connected to the Dojima, Kitahama, and Nipponbashi Data Centers, allowing interconnections between businesses
The optical fiber cabling service Dojima Connect*2 allows interconnections between customers in the Dojima, Kitahama, and Nipponbashi Data Centers. The data centers are directly connected through Todo*3 and redundant path to ensure high reliability and security.
Also, the optical fiber cables between the buildings have the minimum number of fusion splicing points, which provides the service with the same transmission loss and high-quality as the facility environment between adjacent building in Dojima.
Moreover, the service fee of Dojima Connect, which connects our data centers, is flat and provides easy accessibility to customers who are looking for network interconnection points in Osaka.
*2

A service that connect customers' contracted racks dotted across Dojima, Kitahama, and Nipponbashi Data Centers with optical cables.

*3

Underground tunnel dedicated to network connection where cables between communication sites to be installed
(iii) Disaster-tolerant facility specifications
The Sonezaki Data Center (provisional name) is earthquake-proof and tolerant of upper-6 intensity earthquakes, providing 72-hour continuous oilless operation using in-house power generation and power supply from a different substation. The data center is located in an area where the potential of tsunami hazard is low on hazard maps, and significant facilities are installed on the second floor or upper floors in the case of a river flood. Also, it is designed to allow as many UPSs (uninterruptible power-supply systems) as needed to be installed per floor and provides high reliability.
(iv) Reliable support services
The Sonezaki Data Center provides manned 24/7 maintenance and support services by our technical support. It has English speaking staff and a Web support desk in place for overseas customers' safe use.
3. Overview of the Sonezaki Data Center (provisional name) (when initially open)
| Item | Descriptions |
| --- | --- |
| Data center name | Sonezaki Data Center (provisional name) |
| Location | Kita-ku, Osaka city, Osaka |
| Building structure | Steel-framed, Earthquake-proof |
| Area of housing room | Approx. 2,190 m²(Planned to be scaled up to 3,650 m2) |
| Power for datacenter | 6.0 MW (Planned to be scaled up to 10.0 MW) |
*Please contact us for other details on housing room space.
4. Related sites
■Japanese site: mediaCONNECT
https://housing.nttsmc.com/
■Data center introduction movie
https://housing.nttsmc.com/movie/
■for ENGLISH: Data Center Businesse
https://www.global.nttsmc.com/service/#sec01
■Data Center Introduction Movie
https://www.global.nttsmc.com/service/movie.html
【Customer contact regarding this project】
NTT SmartConnect Corporation
Hagimoto or Nakayama, IDC Business Division
Tel: 0120-395-290*
E-mail: info@mcnet.ad.jp
【Contact for press】
NTT SmartConnect Corporation
Nishida or Miyazawa, Corporate Planning Division
Tel: +81 (0)6-6147-5091*
E-mail: pr@nttsmc.com
*Operation hours: 10:00 a.m. to 12:00 p.m., 1:00 p.m. to 6:00 p.m. (except for Saturdays, Sundays, and public holidays and year-end and New Year holidays)