Case Studies
PCCW Global Japan K. K.

A global telecom carrier chooses the Dojima Data Center to enhance business reach and build redundancy in Japan

PCCW Global Limited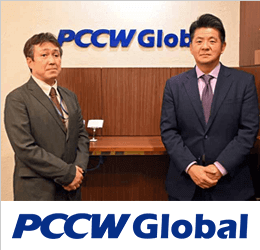 PCCW Global is a leading international communications service provider, offering the latest mobility, voice and data solutions to multinational enterprises, telecommunications partners, cloud and application service providers. With a network footprint reaching over 3,000 cities in 160+ countries across 5 continents, our truly global coverage combined with local on-the-ground knowledge has helped us build best-in-class global connections linking Africa, the Americas, Asia Pacific, Europe and the Middle East. Our network supports a portfolio of integrated communications services including connectivity, applications, and tailored solutions integrated and orchestrated by the Console Connect on-demand digital Software Defined Interconnection ® platform, one of the first global platforms to fully automate switching and routing of all communications for seamless interconnection.
PCCW Global concluded a contract with NTT SmartConnect's Dojima Data Center to strengthen and enhance the connection points in Western Japan, including the Kansai region, and started operations in September 2020.
Challenge

To enhance business in Western Japan and establish connection points for redundancy.

PCCW Global entered the Japanese market in the mid-1970s and has provided Internet connection services to domestic telecom carriers, service providers, and private and public sector companies since the 1990s. Domestic points of presence (PoP) have historically only been placed in Tokyo. Mr. Hiroshi Kitazaki, the country manager of PCCW Global Japan K.K., explains as follows:

"We operate seven PoPs in Tokyo. Having PoPs in Tokyo used to be enough to satisfy the need for global Internet access. However, with the increasing numbers of customers in Western Japan, we began receiving requests to establish PoPs in Osaka. In 2014, we established a PoP in Western Japan for the first time. After that, we had only one PoP in Osaka, but it was not sufficient to continue enhancing business in Western Japan. Redundancy in the event of a disaster was also a concern. We therefore decided to add another PoP in Osaka to resolve these issues."
Solution

The safety of the NTT SmartConnect's Dojima Data Center prompt local and English support.

When installing a new PoP in Osaka to cover Western Japan, PCCW Global compared several data centers. Mr. Hidekazu Usui, the Business Development Manager of the company described the situation as follows:

"What caught our attention was the location of Dojima, Osaka. Dojima has a high concentration of major telecom carriers, IX service providers, internet service providers, and content providers. It provides the best and most convenient location for domestic and international customers to use our services. Therefore, we first picked carriers that ran data centers in Dojima."

After carefully considering several datacenters with connection points in Dojima, PCCW Global chose NTT SmartConnect's Dojima Data Center.

"When selecting a provider, we place the highest priority on whether the provider could continue the business partnership with us. For a telecom carrier like us, the data center is an important place as a communication facility that directly connects to the business. It is a significantly important point when considering service and business continuity. As a result of considering data center service quality and cost, the provider that we considered the best business partner was NTT SmartConnect." (Mr. Kitazaki)

They also recognised that the full support provided by NTT SmartConnect's Dojima Data Center was also another key selection point.

"The operating base of our Japanese subsidiary is located in Tokyo, and we usually provide operations and management remotely. When the data center provides local support, NTT SmartConnect promptly responds on our behalf. In addition, since many of our customers are also global customer like us, we require Japanese and English support. NTT SmartConnect is able to satisfy all of these requirements. They offer the appropriate business advice as a specialist in Western Japan and the Osaka Kansai regions." (Mr. Usui)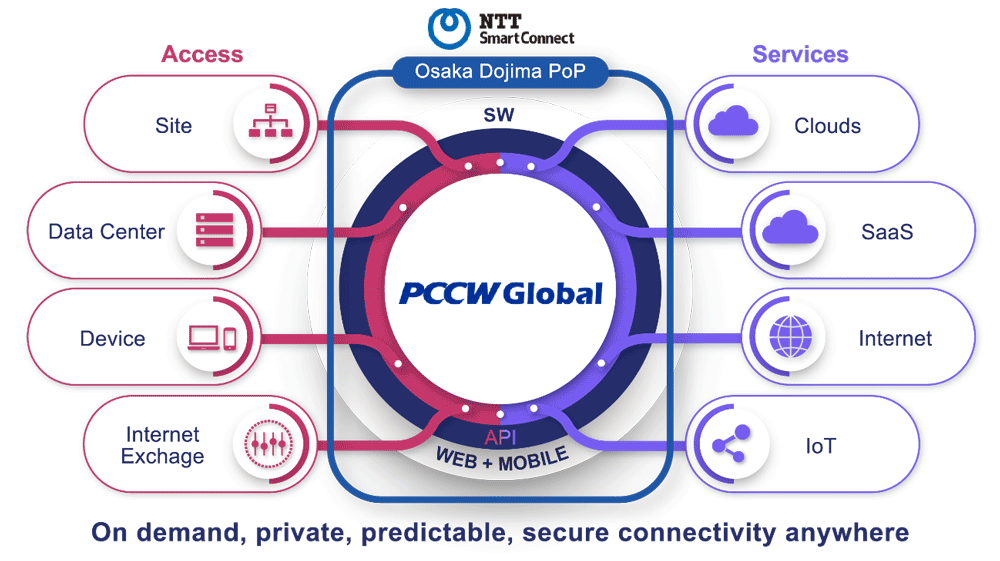 Results

Provide reliable connection points for business continuity and disaster prevention.

PCCW In the autumn of 2019, PCCW Global selected the Dojima Data Center. Although the company initiated the implementation and development work at that time, the schedule fell behind because of the COVID-19 pandemic, so it was not until October 2020 that PCCW Global started actual operations.

"The Dojima Data Center was implemented and started operations as a focal point to provide the IP Transit services that connect to our company-owned Autonomous System. We also started the cloud connect service that connects to cloud service providers. As a result, we provide a variety of different services using the location advantage of Dojima." (Mr. Kitazaki)

Although the operation has only recently started, PCCW Global are already seeing and experiencing the benefits of the location.

"Since our PoP in Osaka was only OS1, implementing another connection point at the Dojima Data Center allowed us to gain the benefits of redundancy and capacity expansion. From a redundancy perspective, another benefit is that we can now recommend that our customers build their PoP in both Tokyo and Osaka to help with their disaster response and business continuity plan. Dojima is strategically located and we expect to leverage this concentration of high internet connectivity, as well as the implementation effects gained via the cooperation with NTT SmartConnect." (Mr. Usui)
Future vision

Provide network service to support companies in the era of teleworking.

PCCW Global currently plays an active part in the investment and construction of submarine cables as part of various consortia and the expansion of PoPs as a global telecom carrier.

"Because of the COVID-19 pandemic, the use of our services for telework and remote work has increased, and the way that business and corporate service clients use our network is changing. As a telecom carrier providing a backbone network for customers, we would like to continue enhancing our private line and IP services. Also, we plan to expand the sales of services, including direct cloud connect via by SDI (Software-Defined Interconnection)." (Mr. Kitazaki)

PCCW Global plans to gradually increase the number of services provided through the Dojima Data Center.

"We would like to enhance our services by positioning the Dojima Data Center as the main site in Western Japan. The more the use of the PoP at the Dojima Data Center increases, the greater the importance of network connectivity. Since NTT SmartConnect provides Dojima Connect (media connect optical cabling service) as a direct connection to data centers in Dojima with low latency, we believe we can consistently provide a high-quality connection environment." (Mr. Usui)

PCCW Global's business in Western Japan will continue with NTT SmartConnect's Dojima Data Center.

※The information contained in this article is current as of December 2020.
Related Services
Contact Us
Please feel free to contact us for price estimates, in-depth consultations, or any other questions you may have.