Features of mediaCONNECT
Facilities
One of the Largest Internet Exchange (IX) Points in Western Japan
Offering a variety of IX and xSP access points, the urban network data centers (DCs) provided by NTT SmartConnect make up the heart of Internet connection services in the Kansai region.
The centers are connected by a network of optical fiber cables (Dojima Connect), providing connectivity to external services with the same degree of ease as on-premises connections, through service tunnels that secure a high level of reliability for data communication.
* Service tunnel: Dedicated underground tunnel for carrying cables between communication points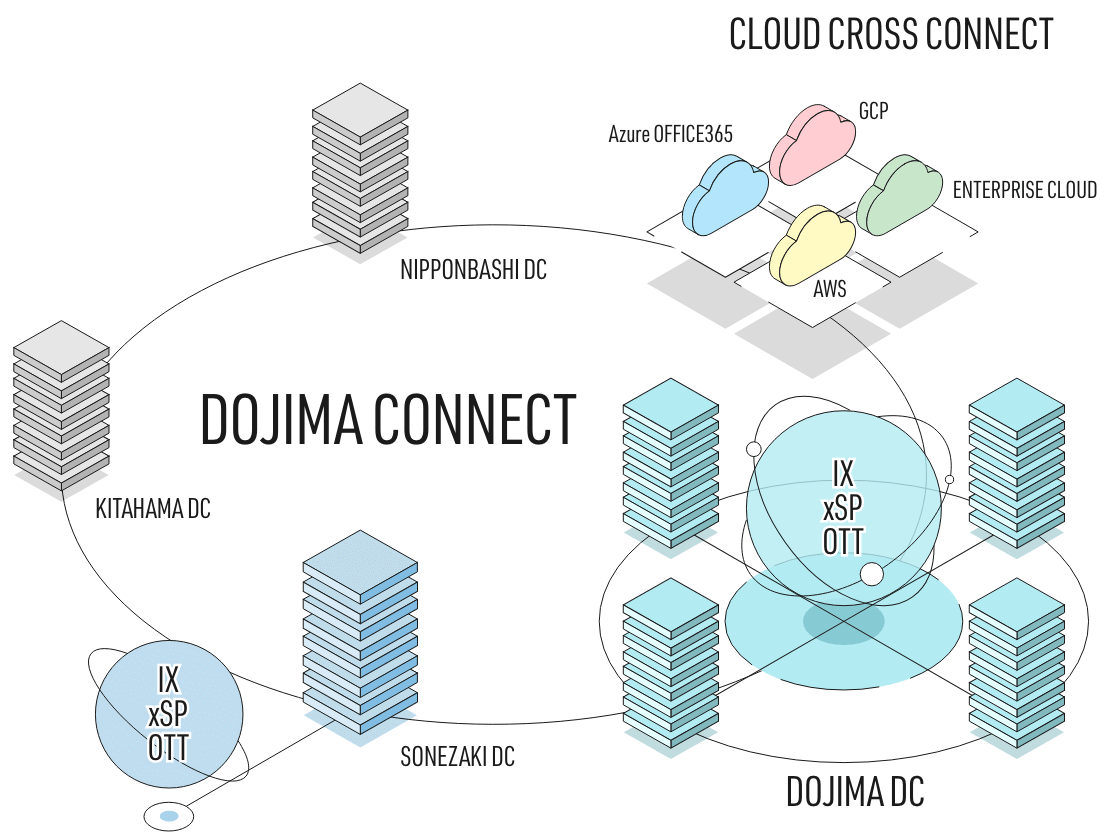 Telepark
Dojima Bldg. 2
Telepark
DojimaBldg. 3
NTTDATA
Dojima Bldg.
Kitahama DC
Nipponbashi DC
Virtual tour
Sonezaki DC
Virtual tour
Features

・Enables interconnectivity between multiple exchange points and Dojima DC, the base for 3IX (JPNAP, BBIX, JPIX) as well as numerous carriers, xSPs, and other Internet service providers
・Robust facilities with state-of-the-art base isolation structures (Nipponbashi DC and Sonezaki DC)
・Highly reliable power equipment capable of handling power densities of 20kW or higher per rack (Sonezaki DC), with power supplied from multiple substations
・All centers located within walking distance of the nearest stations, offering ease of access from outside Osaka Prefecture

Building structure
Lower floors: Aseismic structure
Higher floors: Vibration control structure
Aseismic structure
Aseismic structure
Aseismic structure
Base-isolation structure
Base-isolation structure
Access from
nearest station
About 10 minutes' walk
About 20 minutes' walk from Osaka Station
About 10 minutes' walk
from 4 stations on 3 lines
About 5 minutes' walk
About 7 minutes' walk
About 10 minutes' walk from Osaka Station
Interconnectivity
Peering driven by high-quality, low-cost cabling service
Our optical cabling service (Dojima Connect) has earned a strong reputation among some of the world's leading Internet service providers—particularly where diverse interconnectivity is in high demand. This is not only because of our high-quality, low-cost services, but also because of the maintenance and operation options we offer.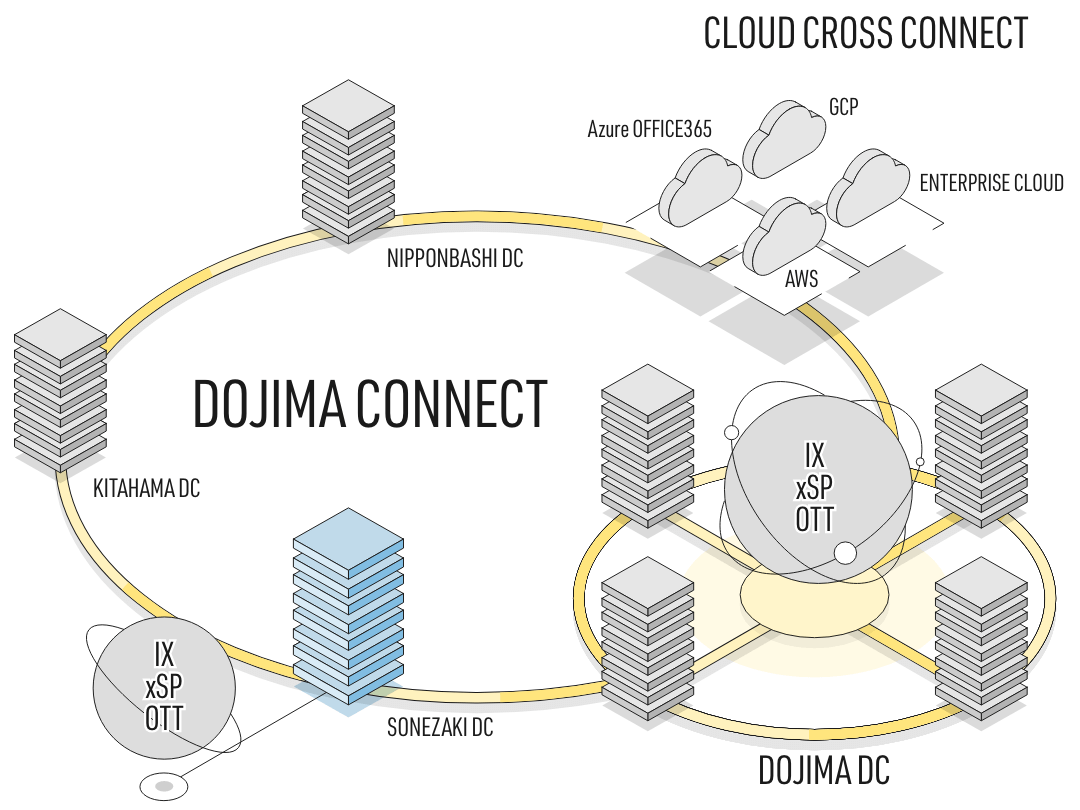 High-quality, low-cost cabling service achieving efficient and effective interconnectivity, recognized by leading global Internet service providers
・Outstanding level of interconnectivity and operational responsiveness
・Superior facilities/environments and the technological capacity to undertake maintenance/operation work
・Build redundancy and strengthen business operations in Japan
Peace of mind with quick on-premises services and English language support
・Cost-effective solutions offering ease of interconnection with other data centers
・High-speed Internet connections that support multiple carriers
・Benefits from securing diverse interconnectivity with a wide range of xSPs
・Secure communication environment with on-premises support
Support
Extensive range of flexible options for installation support and maintenance, with multilingual support
Offering Remote Hands Service, installation support and maintenance service provides basic support such as checking the status of LED lamps on customer equipment and turning equipment on and off, as well as a flexible range of additional options to meet the needs of the customer.
Support services are available, in both Japanese and English, 24/7 year-round, and we provide full support with the installation of customer facilities, routine maintenance work, and unexpected equipment failures in situations where it is difficult to visit the center due to COVID-19.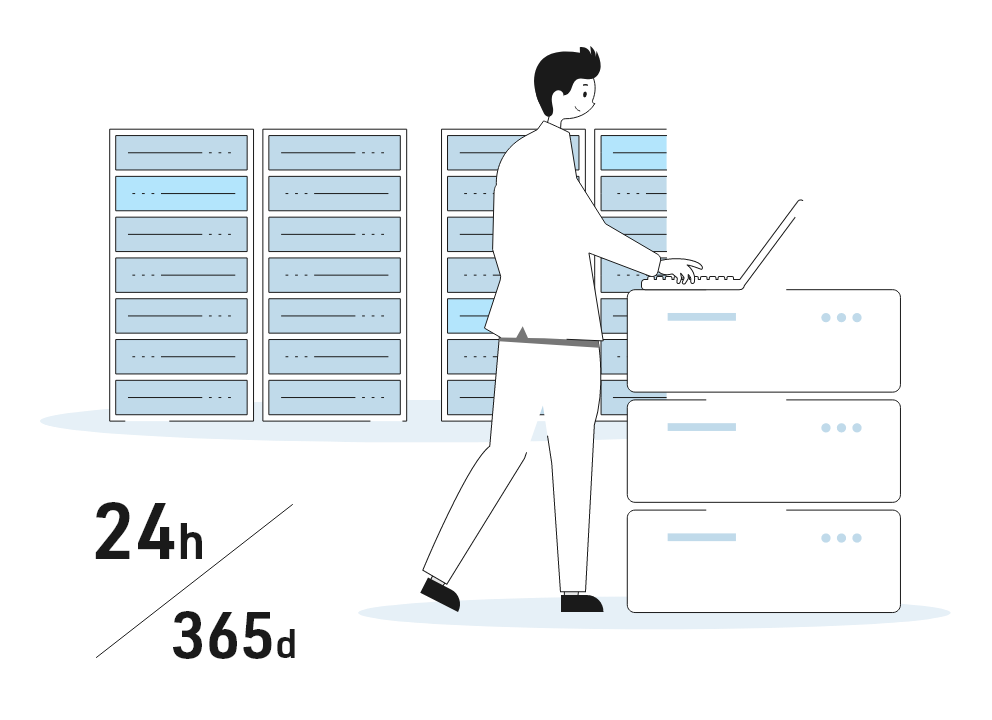 Flexible installation support and maintenance service with Remote Hands

In addition to checking LED lamps on customer equipment, turning equipment on and off, and unplugging and replugging cables in the event of an equipment failure, we also provide flexible support with replacement of back-up media* and other routine work and installation work such as setting up equipment.

※Available with the Extended Remote Hands service
Multilingual support, 24/7 year-round

Available online or toll free, 24/7 year-round, with multilingual support
Case Studies with the Remote Hands
Customer G: A major overseas cloud service provider
Due to COVID-19, it was difficult to send employees to the data center to carry out installation work.
Customer G applied for the Remote Hands service through our web portal site (English site).
NTT SmartConnect maintenance staff wired fiber-optic patch cords between racks on behalf of the customer. To the customer's delight, the work was completed quickly without the need to exchange a contract, and at a lower cost than an outsourced maintenance company.

Customer H: A major overseas telecommunications carrier
Upgrading Customer H's server operating system required a large amount of on-site installation work.
Therefore, Customer H applied to NTT SmartConnect for help with this installation work.
At the data center, the NTT SmartConnect maintenance team installed the operating system on the customer's server, and carried out communications testing with the customer.
This would normally require a high level of expertise, and it would be difficult to bring the workers together at the same time; however, NTT SmartConnect enabled the speedy completion of all processes—from arrangement of workers to installation —while also reducing overseas travel and operation costs, leading to positive feedback from the customer.
Environment
Promoting energy efficiency at our data centers
NTT SmartConnect is promoting the introduction of energy-efficient equipment at our data centers and other facilities.
As well as the data centers already in operation, the Sonezaki Data Center, which opened in 2022, is equipped with various energy-saving facilities aimed at reducing environmental impacts.
In addition to this, we are working to improve power usage effectiveness (PUE) based on the NTT Group's Energy Efficiency Guidelines.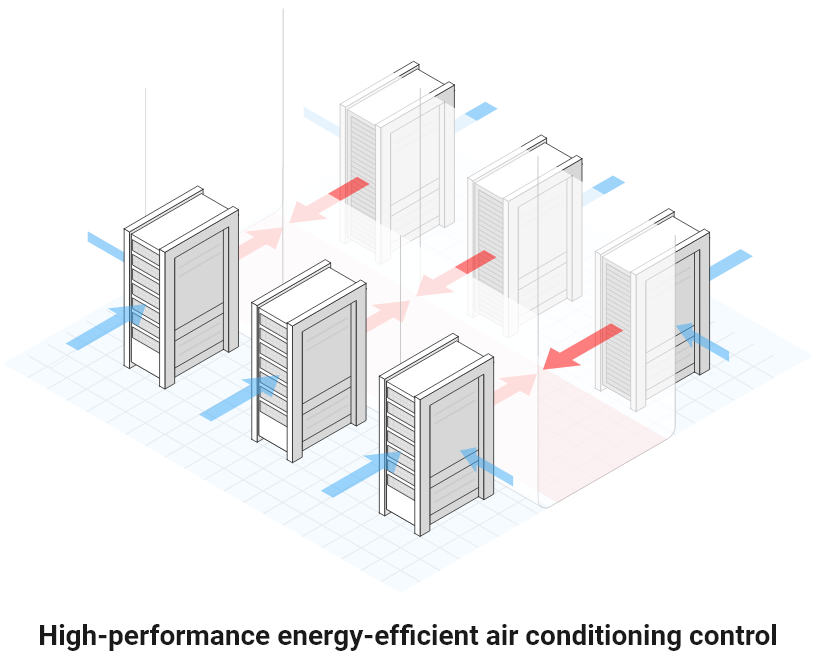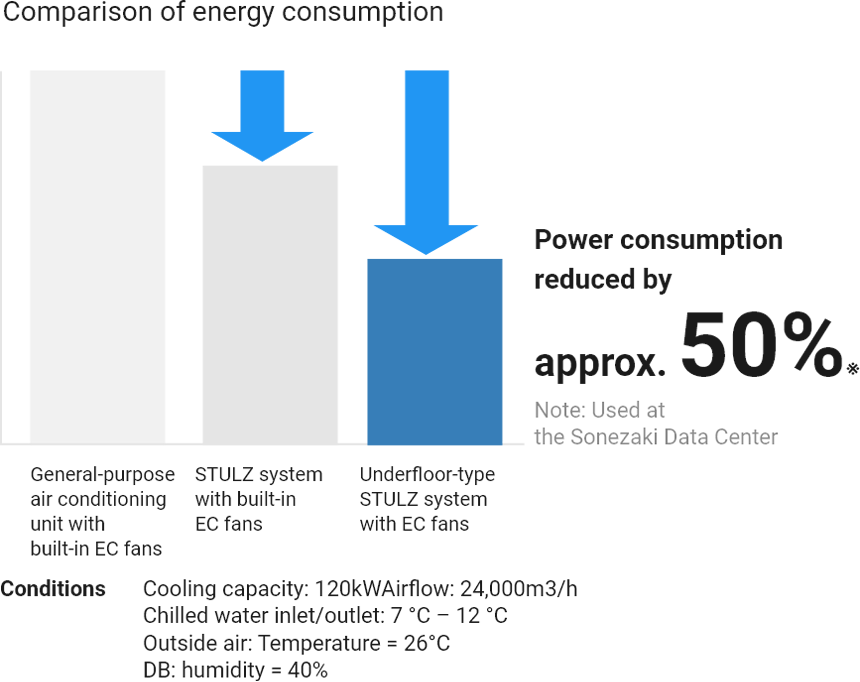 Contact Us
Please feel free to contact us for price estimates, in-depth consultations, or any other questions you may have.