Search by industry or challenges
With high-quality facilities and interconnectivity environments, mediaCONNECT is supporting companies with their operations across a wide range of business settings.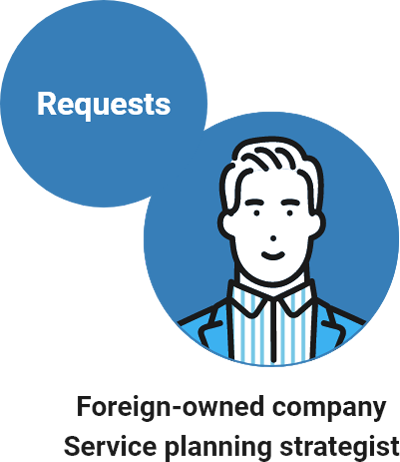 Accommodating growing demand in Western Japan
We want to respond to growing Internet traffic demand in Western Japan
With the increase in Internet traffic driven by demand for video streaming services during the COVID-19 pandemic, Western Japan has also seen a growth in traffic that is exceeding the capacity of our Tokyo base. With a view to expanding our facilities in Osaka, we are looking for a Data Center with a large number of IXes, ISPs, and so on, where we can access a variety of interconnections. We also need a place that offers English language support, from the contracting stage through to operation, where staff are on hand to assist with connecting cables between racks and other tasks.
ISSUE
Challenge

1

Secure interconnectivity with a wide range of IXes and ISPs
Solution

One of the largest Internet exchanges in Western Japan

NTT SmartConnect's Network at Dojima Data Center is one of the largest Internet Exchanges in Western Japan, known as the home of IXes and ISPs, with over 1,800 interconnections.

SOLUTION
ISSUE
Challenge

2

Scalability to accommodate future traffic growth
Solution

Our Sonezaki Data Center can handle high power densities, supporting expansion at the 100-rack level.

The Sonezaki Data Center, which is connected to NTT SmartConnect Dojima DC and other DCs nearby via our optical cabling service (Dojima Connect), can accommodate approximately 300 racks per floor, and is equipped with state-of-the-art power equipment to handle power densities of 20 kW or higher, giving customers the flexibility to introduce additional equipment in the future.

SOLUTION
ISSUE
Challenge

3

Multilingual support, including English, for maintenance and operation
Solution

Multilingual support with our flexible Remote Hands service

English support is available from the initial proposal stage so that overseas customers can use our services with peace of mind. Our installation support and maintenance options (Remote hands service) include basic support, such as checking LED lamps on customer equipment and turning equipment on and off, as well as a flexible range of additional options to meet varying customer requests.

SOLUTION
Related Services
Contact Us
Please feel free to contact us for price estimates, in-depth consultations, or any other questions you may have.