Housing (Colocation)
We provide disaster-resistant data centers with excellent connectivity in the heart of Osaka to meet growing demand from customers for expanded equipment due to increased Internet traffic and the expansion of Internet service providers into the Kansai region. These data centers are directly connected to our Dojima Data Center, which is home to one of the largest Internet exchange points in Western Japan.
Feature #1

Highly accessible urban network data centers

Our data centers are located in the center of Osaka, within walking distance of the nearest train stations, and can be accessed within three hours from central Tokyo, making them ideal for use as a disaster recovery base. Moreover, the data centers are connected to one other via our Optical Cabling Service, enabling outstanding interconnectivity among Internet service providers.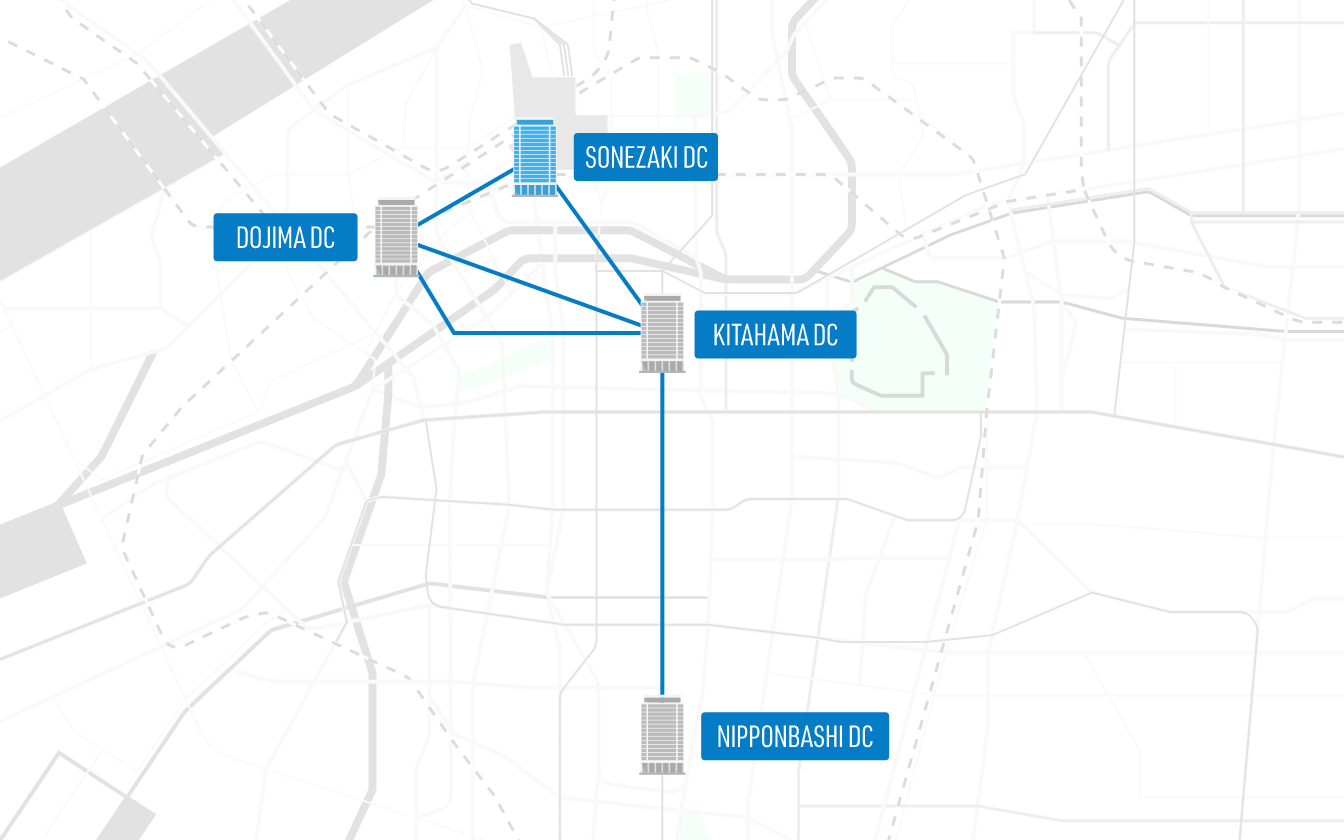 Feature #2

Robust disaster-resistant facilities

Based on NTT's telecommunication building standards, our buildings are fully equipped with robust facilities, including gas extinguishing systems for use in the event of a fire and strong earthquake-resistant structures that can withstand a seismic intensity of 6+ on the Japanese scale. According to the hazard map, the area is at low risk of tsunami, but we have nevertheless taken steps such as installing flood panels to prepare for river floods and other hazards.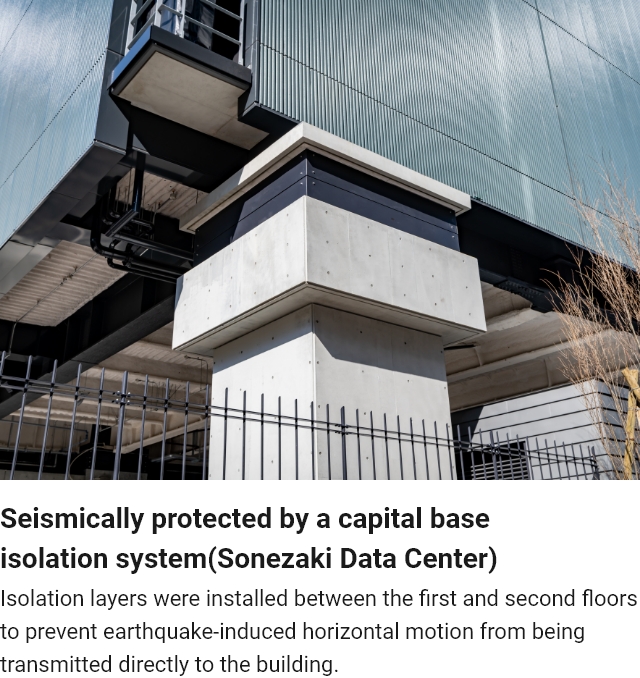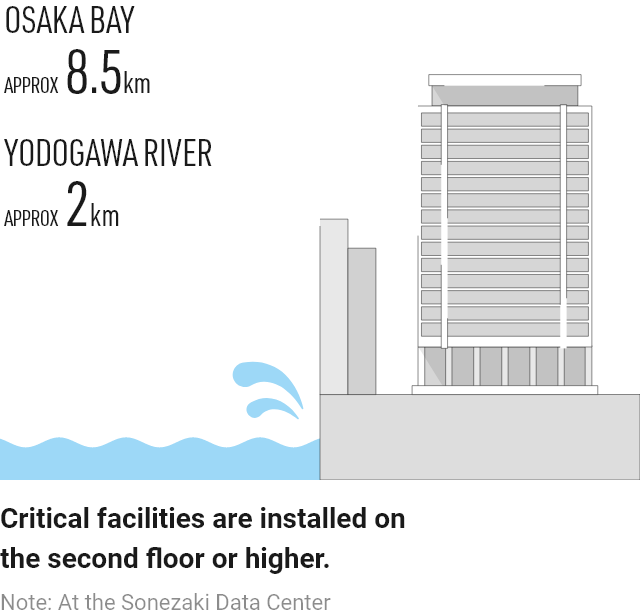 Feature #3

Measures against high heat generation and highly reliable power supply systems

Our power supply systems are capable of handling power densities of 20 kW or higher per rack. In case of an emergency, not only do we have uninterruptible power supplies (UPS) and private power generators (with a continuous up to 72 hours operation time without refueling), but we have also secured backup substations and other facilities to ensure highly reliable power supplies.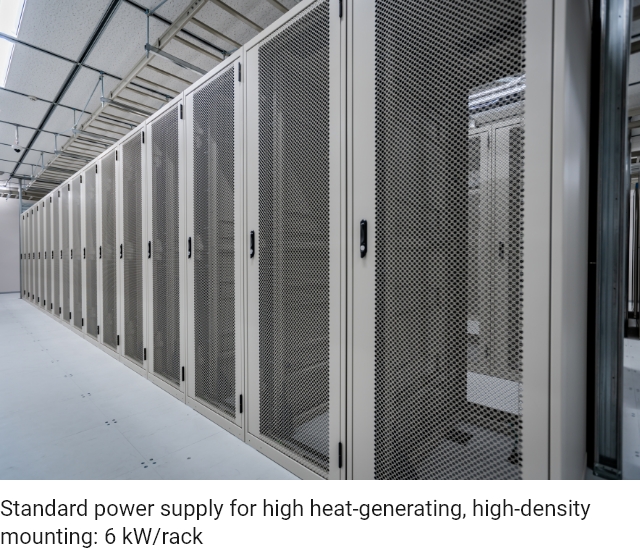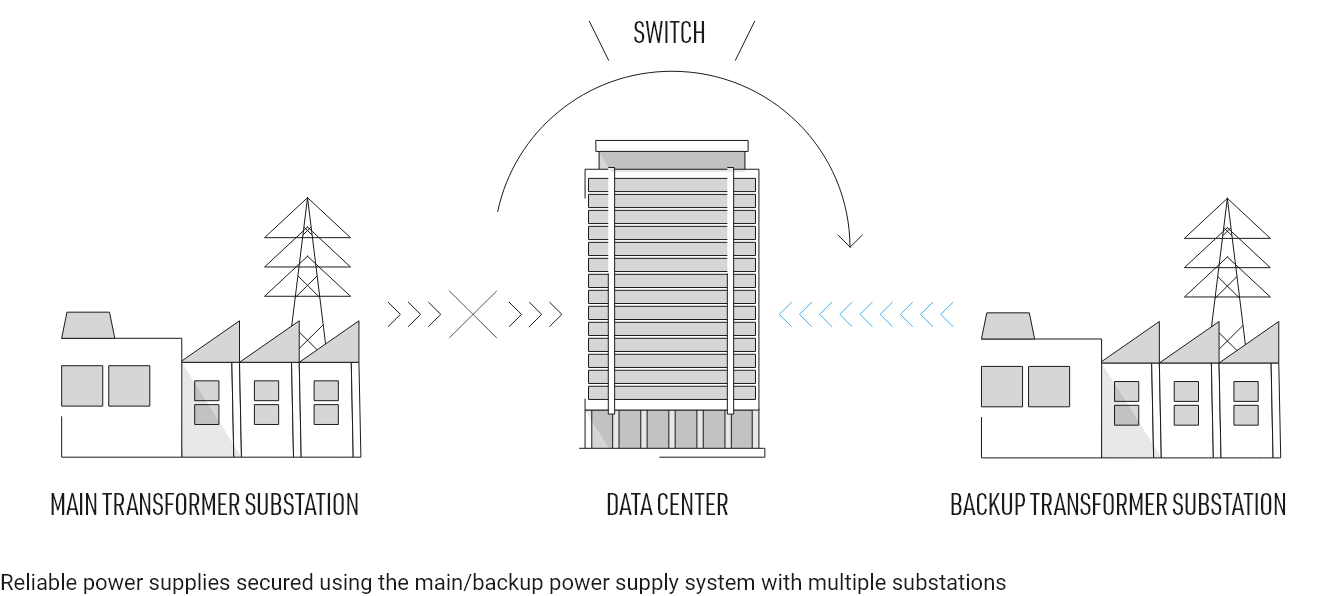 Feature #4

High Security

In terms of security, customer facilities are protected by security systems that make full use of the latest technology, including IC card systems, biometric authentication, gate monitoring with video surveillance, and security doors to prevent unauthorized entry by tailgating, in addition to face-to-face authentication at our reception desks.
STEP1

STEP2

STEP3

STEP4
Feature #5

Carrier-neutral connectivity to accommodate your current network provider

As a carrier-neutral data center, customers have the choice of using NTT Group network services or designating their own carrier service.
Note: Please feel free to contact us if you wish to introduce a new carrier at one of our data centers.
Feature #6

Certifications

Our Business Continuity Management System (BCMS), Information Security Management System (ISMS), and Personal Information Protection Management System (PMS) are certified, in order for customers to use our services with peace of mind.

BCMS 565444 / ISO 22301
Contact Us
Please feel free to contact us for price estimates, in-depth consultations, or any other questions you may have.