Search by industry or challenges
With high-quality facilities and interconnectivity environments, mediaCONNECT is supporting companies with their operations across a wide range of business settings.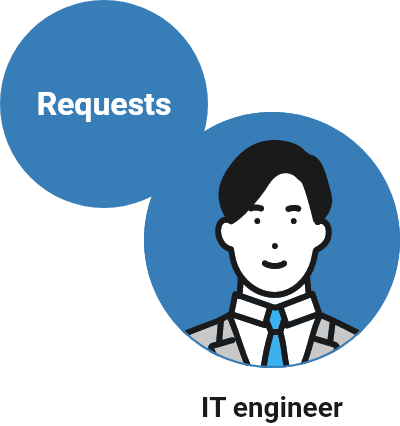 Support with management optimization
We want to strengthen BCP measures and migrate to cloud services.
We have been using an on-premises core system, but management has instructed us to migrate to a cloud service, such as AWS. We are looking for a convenient place that can provide cloud connection. Some of our systems can't be migrated from our own servers, so we can't rely on cloud services alone; however, we would like to discuss all available options, from on-premises to cloud-based solutions, including the possibility of migrating our physical servers.
ISSUE
Realize a flexible system configuration such as a hybrid cloud
Deploy a hybrid cloud with Cloud Cross Connect
With NTT SmartConnect Cloud Cross Connect service, you can use cloud services (AWS, Azure, and GCP) in a secure environment without connecting to the Internet, simply by accessing a network from your customer access point. This can also be combined with colocation and cloud services to achieve the optimal cloud environment for your usage needs.
SOLUTION
ISSUE
Challenge

2

Accessible location and full BCP/DR measures
Solution

Urban network data centers with state-of-the-art disaster preparedness measures

NTT SmartConnect's Data Centers are located in the center of Osaka, offering excellent access within walking distance of the nearest train stations. These state-of-the-art urban network data centers also offer strong earthquake resistance, redundancy of power supply substations, and other robust disaster preparedness measures.

SOLUTION
ISSUE
Challenge

3

Reduce workload at the introduction stage
Solution

Flexible installation support services

NTT SmartConnect's customer installation support services include a wide range of optional solutions, including mounting of equipment in racks and initialization. In addition, our specialized staff work flexibly to provide the operational options that customers need, saving costs and reducing the workload.

SOLUTION
Related Services
Contact Us
Please feel free to contact us for price estimates, in-depth consultations, or any other questions you may have.