Search by industry or challenges
With high-quality facilities and interconnectivity, mediaCONNECT is supporting companies with their operations across a wide range of business settings.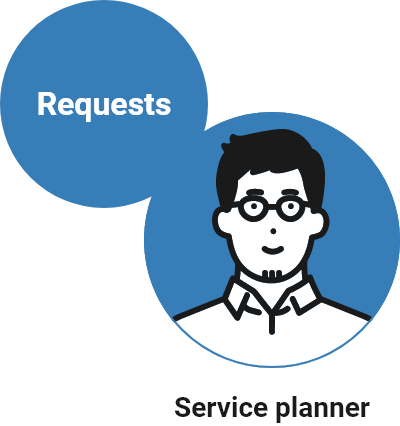 Support with business expansion
We want to supply new services through interconnections with various providers.
We are looking for a data center that offers a full range of connectivity with xSPs and OTT providers. We hope to work with xSPs and OTT providers to expand our range of services and move away from being a traditional Internet provider. Of course, the center must also support broadband connections, have a high level of security, and provide extensive operational support.
ISSUE
Challenge

1

High-quality, reliable interconnectivity with various providers
Solution

Achieve low-latency, low-loss interconnections through provision of optical fibers.

NTT SmartConnect's cabling service (Dojima Connect) provides low-latency, low-loss optical fibers in and around the Dojima Data Center, where various Internet service providers are concentrated. In addition, redundancy is incorporated in the network of data centers through the use of "TODO," enabling highly reliable interconnectivity.

*"TODO" is the underground tunnel dedicated to communication/network cable which provides much more safe and secure network than conduit or external cabling.

SOLUTION
ISSUE
Challenge

2

Advanced facilities and security measures
Solution

Provide facilities with state-of-the-art seismic isolation equipment and a high level of security

NTT SmartConnect Nipponbashi and Sonezaki Data Centers are equipped with state-of-the-art seismic isolation equipment to ensure robustness. In addition to face-to-face authentication at our reception desks, the facilities are equipped with a full range of security controls, including IC card systems, biometric authentication, gate monitoring with video surveillance, and double entry prevention door.

SOLUTION
ISSUE
Challenge

3

Flexible installation support and maintenance/operation services
Solution

Early detection and prevention of problems with an extensive range of flexible installation support and maintenance options

NTT SmartConnect's Remote Hands service provides basic support free of charge, such as checking LED lights on customer equipment and turning equipment on and off. Further to this, our specialized staff work flexibly to provide the operational and maintenance options that customers need, reducing workloads and enabling early detection and prevention of problems.

SOLUTION
Related Services
Contact Us
Please feel free to contact us for price estimates, in-depth consultations, or any other questions you may have.